Well it was gonna happen i guess, this post has quickly turned into another 'what oil thread'
before we stray away from the point that i was trying to make i just say it again. after seeing these pictures id like you all to understand that it is likely that everybody's stationary gear bearings are probably worn to at least some degree changing the rear bearing will not fix your problems as the front is often in a worse state than the rear (because it is the last to see any oil being the furthest from the bearing oil feed) so if when you visit a garage they tell you your rear bearing is on its way out and needs replacing watch your pockets and ask what it is they plan to do about the front .... your money would be better put towards a rebuild when/ if the time comes


now onto oil, bearing wear in the Renesis is primarily caused by (obviously) lack of lubrication, to understand this you need to know how Hydrostatic bearings work, they rely on an external pump to maintain oil pressure in a/ the whole system this oil is pressed into the microscopic gap and larger 'bath' (you can see the bath in the pictures) between the eccentric shaft (or equivalent) and bearing - the eccentric shaft literally 'sits / 'floats' on this oil film and should never actually touch the walls of the bearing! oil pressure is regulated by 2 oil pressure release valves 1 front and 1 back these are designed to release any oil pressure higher than there pre set pressure, about 70psi in the s1 Renesis engines and much higher in the s2 engines (you see, Mazda realised there was an issue
)

now understand oil if you throw water on a wall it quickly runs down the wall and off onto the floor right? if you throw treacle on the same wall waiting for it to touch the floor would be a bit like watching paint dry or slugs race
but you had a harder time getting the treacle out of the bottle than the water the same principle applies with engine oils, 5w30 is an extremely thin oil like the water in the analogy its easily moved about giving the oil pump and in turn the engine (because the oil pump is driven by the engine) an easier time BUT it takes very little for it to run off bearing surfaces and maintaining oil pressure at low revs is difficult (it takes a lot of squeezing) a thicker oil such as 10w40 is (like the treacle) not as easy to shift about and gives the oil pump a slightly harder time (were talking almost unmeasurable amounts here the difference is tiny but sufficient) but it sticks to the bearing walls for longer and at lower revs doesn't suddenly jump ship and make maintaining oil pressure quite so difficult, also when you park the car up for bed time its not as likely to have made its way all the way back to the sump by morning!

obviously all this is very basic ... there are literally books wrote on oils, lubrication and bearings but they give you headache and aren't very interesting so i wouldn't bother
This is a topic that i think should be discussed, I'm hearing more and more of people taking there cars to certain company's with minor problems that is quickly attributed to a 'failing rear stationary gear bearing'.
Now ok, I've seen enough engines in pieces now to know for absolute certainty that we do have a problem! and everyone knows that i insist that if your still using 5w30 semi synthetic engine oil you MUST switch 10 to or 15w-40 asap! why has been delved into many a times in the oil threads but for the sake of this lets just say thicker oil = better for bearings! proven over the last 40 years in rotarys before the Renesis.
It would be wrong to not give you some examples!
this is a rear stationary gear bearing that is showing wear - its not great but your not to expect anything catastrophic to happen any time soon!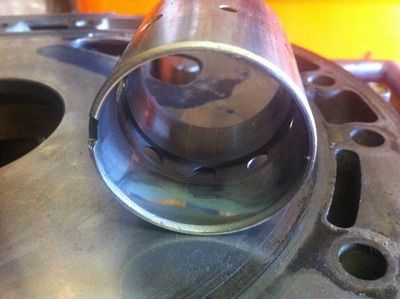 this is another rear stationary gear bearing that is worn right through to the copper ... again its not great but not urgent that you fix it!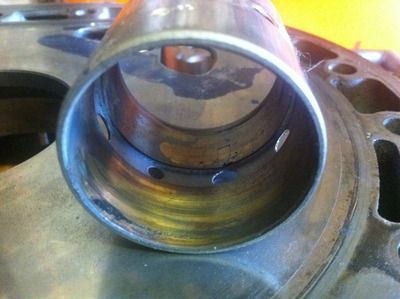 this is 1st bearing i showed you's twin (ie front stationary gear bearing) its not great!
this is another rear bearing, you can see with this 1 part of the copper has chipped away. this bearing is on its way out now and could last anything from 1000 - 10000 miles but its days are numbered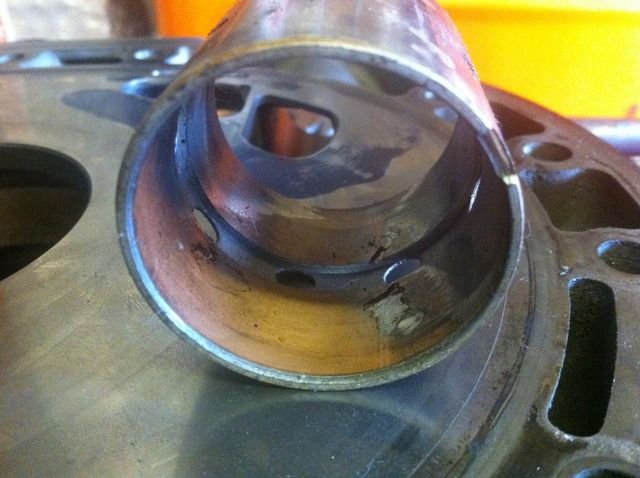 this is the last bearings front bearing, its in a similar state - which is rare they don't normally wear the same (in my limited experience)
this bearing has failed completely and is the reason the engine was stripped down! it was a rear stationary gear bearing and the inside edge of it is no long round but egg shaped, also you can just make out the lip on the top edge that folded over ... if this happens your eccentric shaft will go with it
and its not uncommon!
this is another bearing that as you can see is well and truly knackered! ... BUT it hadn't reared its ugly head and the low compression engine that it was in still ran quite happily
this is also not uncommon!! this bearing didn't have very long left!!! front bearing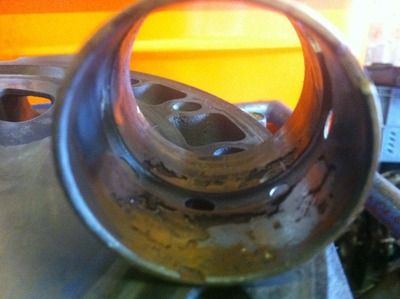 this is the above bearings twin (rear bearing) you can see the level of wear is a million miles apart!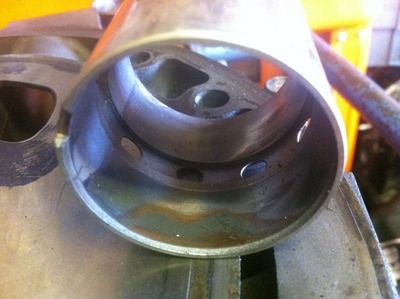 another bearing through to the copper
now this bearing was front stationary gear bearing, it was in a club members car and slipped at Blyton this last AGM (some of you will remember) its didn't just slip completely shredding itself on the locating pin it also destroyed the stationary gear, eccentric shaft and half the front cover assembly!!!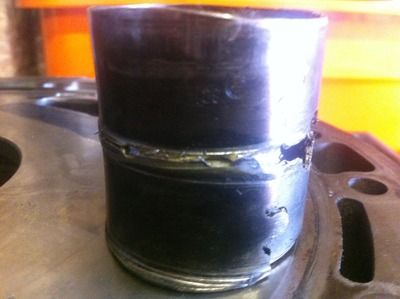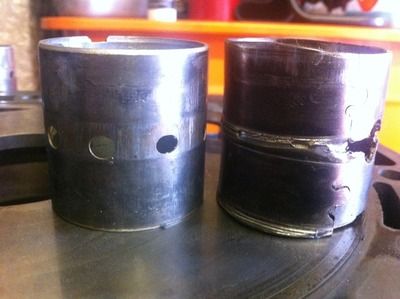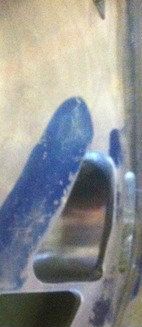 you can see in this picture the egg shape of the bearing and the complete lack of anything inside ie no zinc OR copper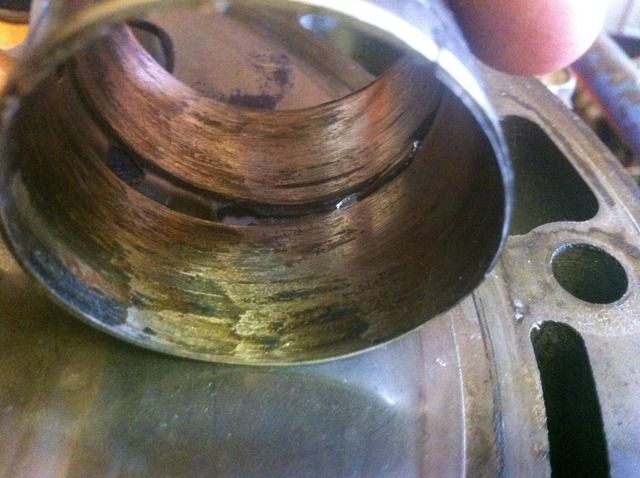 and this is some of the horror it caused under the front cover!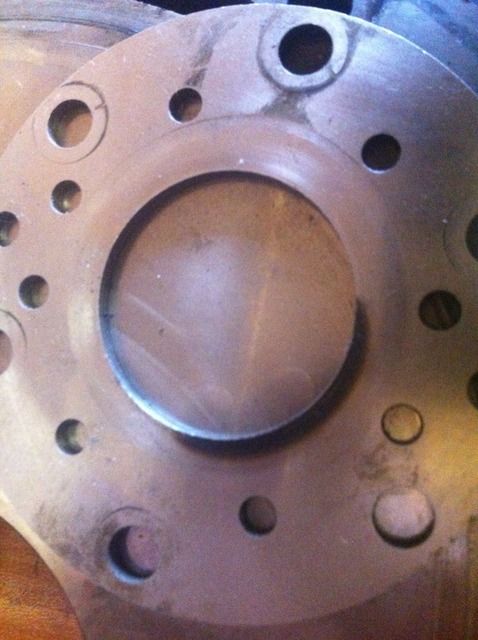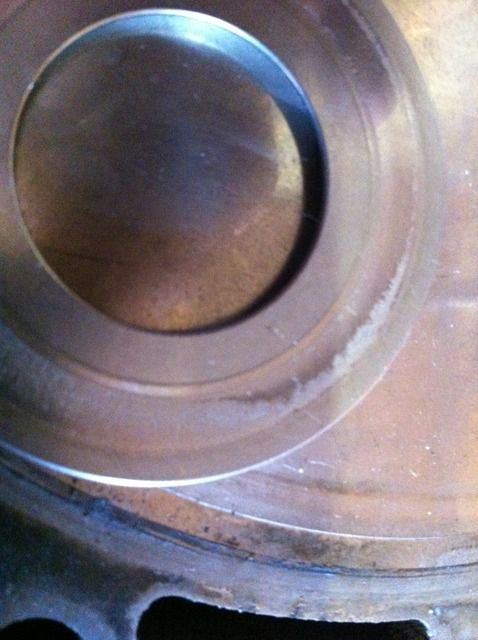 and for the benefit of anyone who might think I'm spinning them a tale here's a few pics of a couple of bearings that are still in there own stationary gear, they were removed from an engine that had done ONLY 56000 miles and was suffering from low compression on both rotors, not bearing failure!!
the front gear is the small 1 on the left and the rear is the larger on the right ive taken pictures of the left and right side of both bearings as you look at them here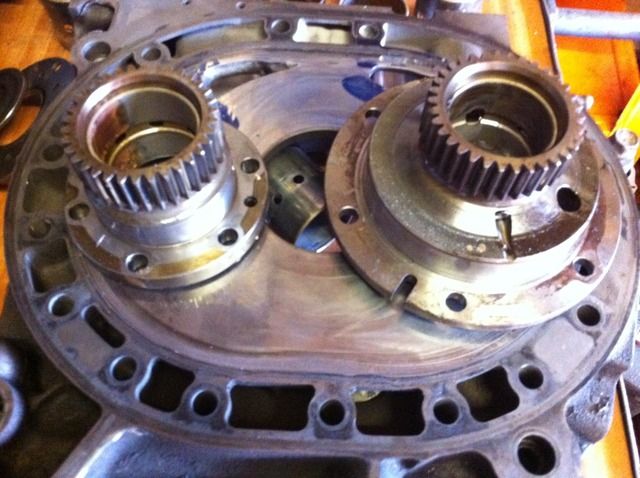 left side rear bearing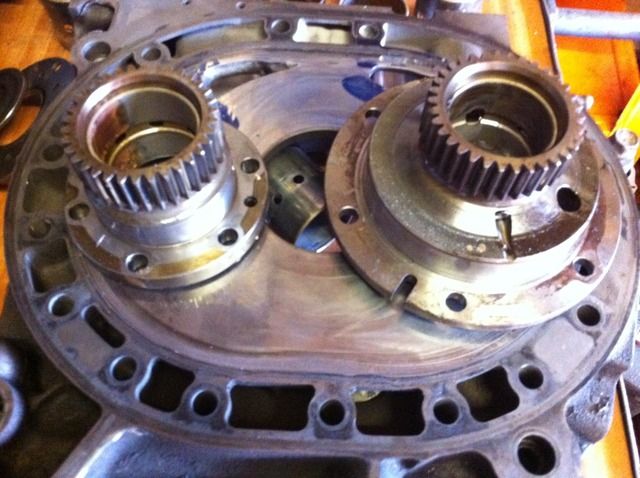 right side rear bearing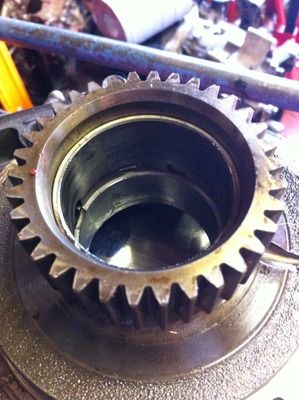 left side front bearing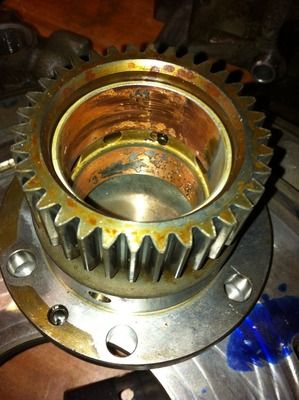 right side front bearing
these bearings came out of the exact same engine!!!!! they did the same mileage, under the same conditions with the same amount of services etc etc and as you can see the rear bearing is fine but the front well f*****d for lack of a better word!
so the next time you or anyone you know visits a specialist or general garage and is told that your rear stationary gear bearing is on its way out, urgently needs fixing and you can have it done there and then for £400
then please ask them what it is exactly they plan on doing about the front bearing!!!! there's a 50% chance that (less id say as more often than not the front bearing is in worse nick than the rear) replacing the rear bearing will help your engine keep going ... and 50% chance your wasting your money!!!!
hope this has shed a little light on things for people!