Hi everyone,
Apologies if this is a lot to read for my first proper post on here, but I've got a lot to catch up on considering that I've owned my RX8 for over a year now and have been meaning to register on here for just as long!
Where to begin...
Well, I went on the hunt for a car during May of last year as I'd just finished Uni, landed myself a job and decided that I should probably get something to replace my 24 year old Nissan Micra (this never happened in the end as I couldn't bring myself to part with it
)
As I always do I did plenty of research before concluding that I'd like an RX8. I considered 350Zs, MR2s, R33 GTSTs and even an S4 B5 Avant before coming to the conclusion that the RX8 offered the most for the money, plus I like a car with a bit of 'uniqueness'. I looked around on the internet at a few and came across Hextable Rotaries who seemed to stock a good selection of RX8s and weren't to far away from me. Some of the reviews (one in particular) of Hextable made me hesitant to deal with them, but I thought I'd chance it.
Out of courtesy I gave them a call to let them know that I'd be coming down that weekend and spoke to Mark, who seemed very friendly. I aimed to get there early to avoid any crowds - this was a good move on my part. When we arrived Mark was outside to greet us and gave us a quick run down of some of the models we had in stock, told us to give him a shout if we wanted to take any for a test drive and left me and my girlfriend to look around.
Initially I was only thinking of spending £2-2.5K on a 231, as this seemed to be the sweet spot for obtaining a relatively tidy example. I'm a very fussy individual when it comes to the appearance of my car, I can't stand to live with dents / scratches / worn seats etc., so any car that I bought would have had to have had work done to get rid of any imperfections. Most of the examples we saw had cloudy headlights, a few scratches here and there, kerbed wheels and were far from perfect by any means (all were very competitively priced and well-cleaned mind you).
That's when we spotted the Galaxy Grey PZ at the front of the forecourt and our budget flew out the window
I literally couldn't fault it, the paintwork was perfect (not a swirl mark or scratch in sight) and the interior looked (and smelled) brand new. I hadn't originally considered a PZ model as all the examples, which were few and far between, were out of my initial price range. I spoke to Mark who gave us the keys for a test drive, was given a briefing on letting it warm up etc. and then sent on my way.
I've only ever owned relatively slow cars (the fastest probably being a Vauxhall Vectra 2.0t that I bought for £800) and the fastest that I've ever driven was probably my Dad's XKR, which whilst being very powerful, is also quite heavy. As soon as we set off in the RX8 I could tell it was something special - I felt perfectly connected to the car. It handled beautifully, sounded awesome and was very very smooth. Both me and my girlfriend returned with huge grins.
On our return a couple of lads were eyeing up the car and asked us what it was like to drive - they had been looking at a Kuro but had been rather disappointed by it, due to its apparently shabby state. I went in and spoke to Mark who came out to walk round the car with us and talk us though its history. He kindly pointed out that there was a dent on the rear quarter panel in front of the boot that he would get fixed if we bought it, along with some very slight lacquer peel on one of the headlight washers. He showed us the compression test results provided by LC (all in the low to mid-7s) and gave us a copy of the digital Mazda service record that showed, amongst other things that the cat and coils / plugs had been recently replaced - it also had one previous owner, which seemed promising.
We gave it a few hot start tests just to put my mind at ease and then went to talk business, half an hour later me and my girlfriend were the proud owner of a 56' Galaxy Grey PZ. We agreed to collect it in a weeks time to give them the opportunity to get the dent and lacquer peel sorted out, I couldn't wait to get the car and I found myself on here every day looking at all the potential things I could do to it!
We picked it up the weekend following and it had been freshly valeted and there was no trace of the dent whatsoever
I followed my dad's XKR back home to London as was quite surprised at how well it could keep up (as was my dad)
Here is a picture of when I got it home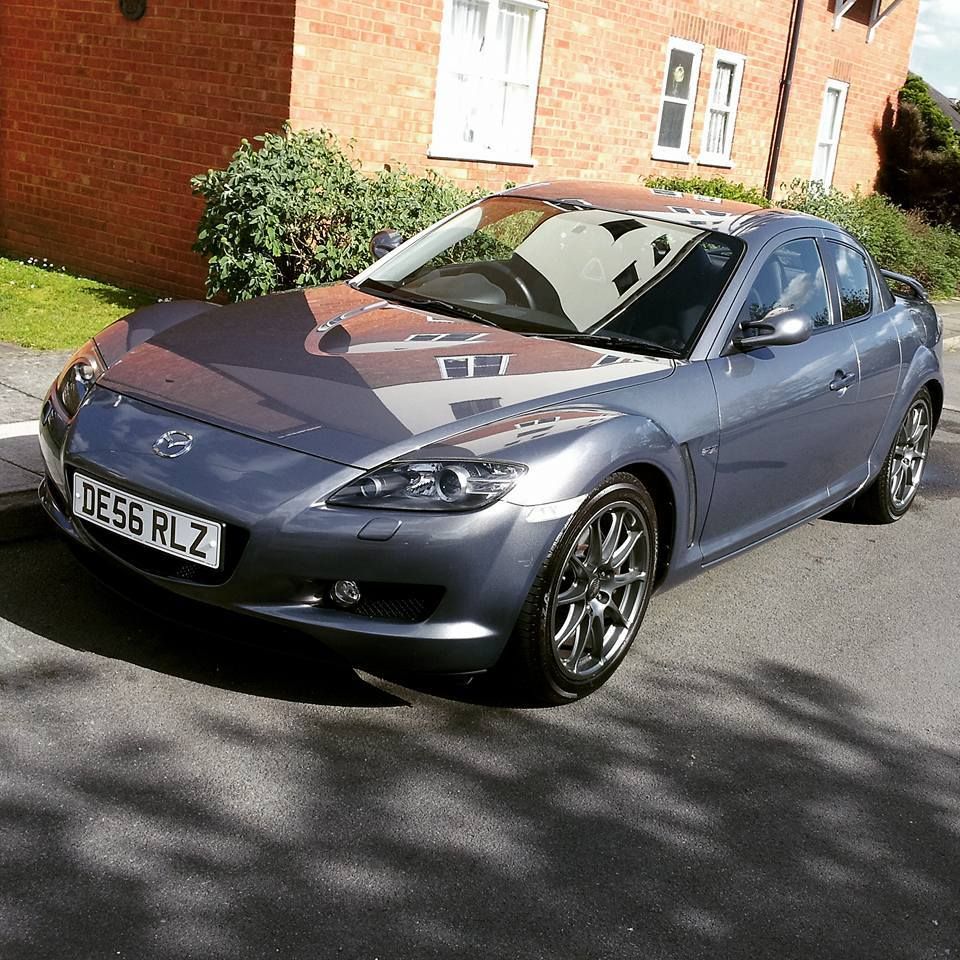 I'll stop typing for the moment, as (believe it or not) there is still more to go before I have caught up to where I am now.
Well done if you managed to get this far